DERMAQUAL - DISOLVIDASE
Hyaluronidase 1500 I.U 5x10ml
DISOLVIDASE is a lyophilized solution of hyaluronidase powder, used to correct and remove defects resulting from the administration of hyaluronic acid. The hyaluronidase enzyme, through its depolymerizing action, dissolves the chemical bond (cross-linking), leading to the breakdown of acid molecules and acceleration of its biodegradation. The preparation dissolves subcutaneous nodules, incorrectly positioned or over-administered filler of cross-linked hyaluronic acid, leading to the reversal of the negative consequences of acid implantation.
Composition
Aqua/water, Hyaluronidase, Mannitol.
Dissolves hyaluronic acid fillers.
Diffuses uncomplicated nodules and overcorrection associated with HA filler injection.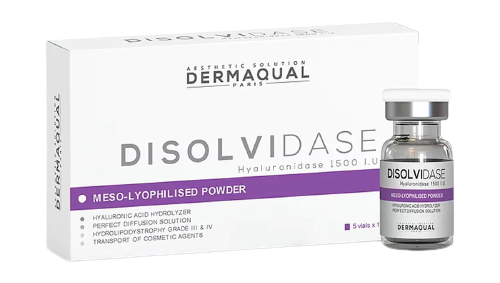 Indications
Each box contains 5 sterile vials of 1,500 I.U. Solid lyophilized powder of hyaluronidase.
METHOD OF ADMINISTRATION
• Topical application.
• Needle-free mesotherapy.
• Microneeding therapy.
• Electroporation.
• Lontophoresis.

AREA INDICATED FOR USE
All areas where removal of the effects of hyaluronic acid fillers is desired