MESOGLOW
For Ultimate Skin Glowing
MESOGLOW is an innovative energizing radiance and reverse-aging cocktail. The exceptional formula provides a long-lasting lifting effect and perfectly balanced skin tone. A combination of low molecular hyaluronic acid, DMAE, sodium DNA, and silanetriol penetrates the dermis, giving the skin a youthful appearance, extreme hydration, and improved elasticity. MESOGLOW targets and reduces the first signs of fine lines and wrinkles by preserving the skin's natural moisture. Expertly smoothing, revitalizing, and boosting radiance to reveal younger-looking skin.
AQUA/WATER, DIMETHYLAMINOETHANOL TARTRATE (DMAE), SODIUM HYALURONATE (HYALURONIC ACID), SODIUM HYDROXIDE, SODIUM DNA, SILANETRIOL, POTASSIUM SORBATE, SODIUM BENZOATE.
INDICATIONS
• Illuminates skin tone / gives glowing effect.
• Enhances skin elasticity and firmness.
• Lifts and hydrates skin.
• Restores lost collagen.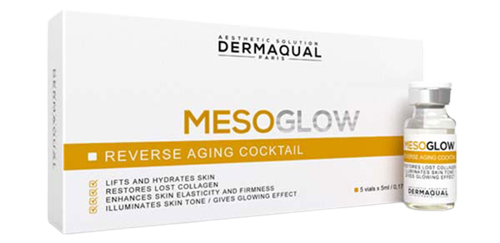 PRESENTATION
Each box contains 5 sterile x 5 ml/0.17 fl. oz. vials.
METHOD OF ADMINISTRATION
• Topical application.
• Needle-free mesotherapy.
• Microneeding therapy.
• Electroporation.
• Lontophoresis.
AREAS INDICATED FOR USE
• Face, neck, décolleté, and back of hands.
• Inner sides of arms and thighs.